Our Business / Thermal Power Stations

Safety Management and Disaster Prevention Measures
Safety Management and Disaster Prevention Measures
Safety Management
At thermal power stations, with the highest priority placed on the safety of personnel and facilities, we strive to ensure safe and stable operation through the appropriate implementation of operations management and facility maintenance.
Operations Management
The central control room conducts 24-hour monitoring operations. During daily patrol inspections, each device is checked for exterior appearance, temperature, vibration, sounds, etc., to strive to ensure that any minor abnormalities can be found as early as possible and nothing is overlooked.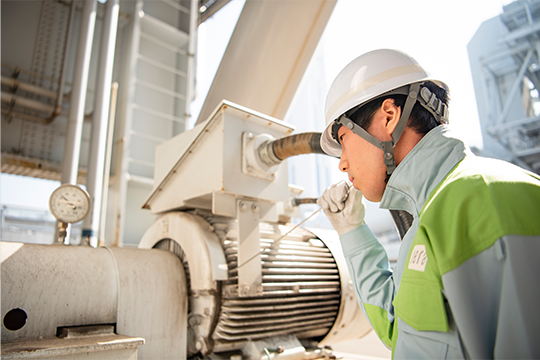 Facility Maintenance
Facilities are regularly inspected for safe operation.
Inspection methods include "periodic operator's inspections" stipulated by the Electricity Business Act, and "periodic self-inspections" for voluntary inspections. Furthermore, maintenance is also performed for defects and other problems during operation, and repairs are made by collaborating with partner companies to strive for quick restoration and stable operation.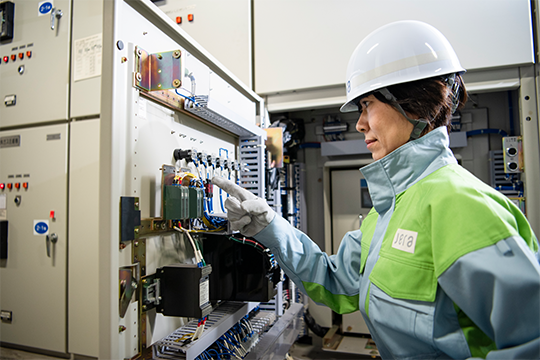 Disaster Prevention Measures
In thermal power stations many dangerous substances are handled, and they are appropriately managed according to laws such as the Fire Service Act, the Act on the Prevention of Disasters in Petroleum Industrial Complexes and Other Petroleum Facilities, and the High Pressure Gas Safety Act, respectively. In particular, for thermal power stations located special disaster-prevention areas such as petrochemical complexes, JERA is taking the following measures depending on the station's scale.
Establishment of management systems through the appointment of a disaster prevention manager and a deputy disaster prevention manager and the creation of disaster prevention regulations
Installation of disaster prevention equipment and materials, such as chemical fire trucks, oil recovery and oil fence vessels by the Self-Defense Disaster Prevention Organization and the Joint Disaster Prevention Organization, and deployment of disaster prevention staff necessary for this purpose
Establishment of reporting systems and other systems for disaster prevention
In addition, emergency disaster systems that can respond flexibly in the event of a disaster have been established.