Our Business / Thermal Power Stations

Seismic Countermeasures
Aseismic Design
Aseismic design is implemented when constructing a new thermal power station based on relevant laws such as the Building Standards Act, Fire Service Act, "Rules of Quality Assurance for Safety of Nuclear Power Plants (JEAC)," etc. After construction, seismic performance is periodically checked through facility inspections.
Countermeasures Considering Past Facility Damages
After previous earthquakes that caused severe damage to our facilities, we have implemented individual countermeasures in consideration of the damages.
[Individual Countermeasures]
Building reinforcement (main turbine building and main administrative building) based on old aseismic design standards
Measures against sloshing* of fuel tanks (reinforcing floating roof function -> forming double-deck)
Measures against foundational differential settlement for transformers, fire extinguishing pipes, etc.
※The fuel oil in the tank fluctuated due to the relatively long period of vibration from the outside caused by the earthquake. This oscillation may break the float roof of the fuel tank or cause the fuel oil to overflow from the tank.
*Forming Double-Deck for Floating Roof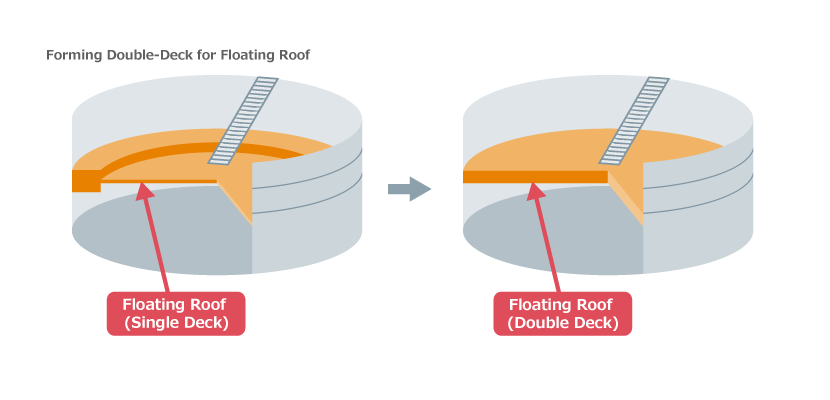 Aseismic Reinforcement
For earthquakes announced by public organizations like the Central Disaster Prevention Council, aseismic evaluation for important facilities for each power plant is performed and measures such as aseismic reinforcement are implemented to avoid long-term stoppage due to collapse and earth quake damage. In addition, when earthquake predictions are newly received, we will examine the validity of the existing earthquake countermeasures and consider necessary changes.
[Main Facilities with Aseismic Reinforcement]
stack
HRSG (Heat Recovery Steam Generator) Support Structure
LNG Carburetor Structure and LNG Pipe Bridge
Switchyard* Building
*Opening/closing of electric circuit paths by a switchgear such as a circuit breaker installed in a power station