Plan A for Decarbonization: Why Is Japan Using Ammonia for Thermal Power Generation?
Plan A for Decarbonization: Why Is Japan Using Ammonia for Thermal Power Generation?
30 October 2023
As JERA continues decarbonization efforts toward achieving zero CO2 emissions by 2050, the company has announced an initiative to replace the fuel used in coal-fired power plants with ammonia. It plans to commence a demonstration test in March 2024, a year ahead of its initial schedule, where ammonia will be used to replace 20% of conventional fossil fuels.
As the world turns its attention to cleaner energy alternatives, ammonia is emerging as a promising contender due to its carbon-neutral combustion. JERA's groundbreaking utilization of ammonia in a commercial thermal power station, a global first, is turning heads.
In addition to renewable energy, JERA is charting a unique course by harnessing existing thermal power infrastructure to transition to ammonia. In this article, we delve into the company's vision behind this strategy and explore the innovative technology that underpins their ambitious pursuit.
A World First: The First Step Toward Carbon-Free Thermal Power Generation
At Hekinan Thermal Power Station, which overlooks Mikawa Bay in Aichi Prefecture, the world's first large-scale ammonia combustion demonstration will commence at the state-of-the-art and high-output Unit 4, one of the plant's five units.
Thermal power generation, which produces electricity by burning coal, oil, and natural gas, accounts for nearly 80% of the power sources in Japan.* However, the challenge of these fossil fuels is that they contain carbon (C), which, when burned, combines with oxygen (O2) to produce CO2. With Hekinan Thermal Power Station, JERA aims to achieve CO2 emissions-free thermal power generation.
*Source: FY2019 edition of the Japanese government's Sixth Strategic Energy Plan, Ministry of Economy, Trade and Industry (METI)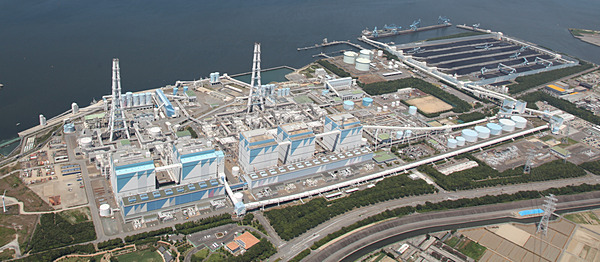 Hekinan Thermal Power Station
Ammonia (NH3) holds the key to decarbonizing coal-fired power plants because when it is burned and bonds with oxygen (O2), it does not produce any CO2. JERA is now refurbishing existing coal-fired power equipment to burn ammonia instead of coal, thereby reducing their CO2 emissions. The first step in this process begins with the 20% combustion demonstration tests.
When people think of decarbonization, they often imagine the need for large-scale investments like offshore wind farms. However, JERA believes this goal can be achieved by modifying existing coal-fired power plant facilities to accommodate ammonia.
Coal-fired power involves boilers that boil water to produce steam, which then turns turbine blades, similar to a pinwheel, to generate electricity. These boilers are heated by igniting burners that use coal as their fuel source, so only the burner needs to be replaced to enable the combustion of ammonia.
The imminent introduction of ammonia thermal power is expected to reduce coal usage and CO2 emissions by 20%. If the proportion of ammonia used increases to 50% or 60% in the future, coal usage and CO2 emissions will decrease proportionately.

The advantage of utilizing existing facilities is that it allows for a gradual increase in the proportion of ammonia, promoting decarbonization at a low cost and in a shorter period while verifying the technology and its safety. Power generation using fuel ammonia is one of the key measures in "JERA Zero CO2 Emissions 2050," which JERA announced in 2020.
In 2021, small-scale combustion demonstrations began at Hekinan Thermal Power Station, thanks to a grant from the New Energy and Industrial Technology Development Organization (NEDO). Since then, improvements to the burners, as well as the construction of facilities for transporting and receiving fuel ammonia, have also been underway.
Mitsutaka Ban, head of the Technology Strategy Group in JERA's O&M Engineering Strategy Division of JERA, explains, "Implementing low-carbon technology in society as swiftly as possible is our utmost priority. With this understanding, every individual at our power plants and partner companies is thinking of innovative ways to expedite the process, no matter how small the impact."
The development of this new decarbonization solution, which was met with skepticism just a few years ago, is now a year ahead of schedule, according to JERA's initial roadmap.
Why Ammonia?
JERA began developing its ammonia-fired power generation technology around 2016.
The previous year, at COP21, the Paris Agreement was adopted with participation from all countries as a new framework for reducing greenhouse gas emissions, making decarbonization an urgent priority in the electric power industry.
However, to achieve zero emissions in sectors like electricity and fuel, it is imperative not only to reduce CO2 emissions but also to ensure stable supply, economic viability, environmental friendliness, and safety.
When first developing this technology, there was a collaborative effort across industry, government, and academia to create new power sources, exploring various plans that included renewable energy, hydrogen, ammonia, biomass, and more.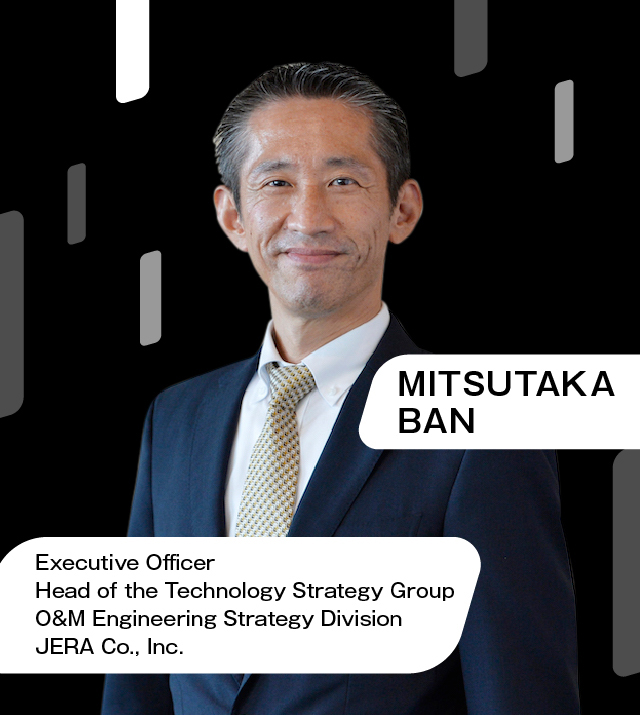 "Internally, we debated extensively whether there was a way forward without fossil fuels and whether we should pivot toward renewable energy. However, what we ultimately need to consider is how to supply energy efficiently, affordably, and reliably while reducing CO2 emissions."
"When we think pragmatically about existing technologies, infrastructure, and the costs that society can bear, it becomes evident that no matter how much we increase renewables—whose power output fluctuates depending on the weather—thermal generation remains indispensable to a stable energy supply. Given this context, we believed it more realistic to transport clean energy in the form of hydrogen from overseas to Japan, burn it for power generation, and thereby reduce CO2 emissions." (Mitsutaka Ban, JERA)
Amidst those discussions, a new option emerged: burning ammonia.
From FY2014 to FY2018, the Cabinet Office's Cross-ministerial Strategic Innovation Promotion Program (SIP) conducted joint research and development on the theme of "direct ammonia combustion."
Companies and institutions participating in this project included Chubu Electric Power which is the predecessor of JERA, as well as power plant manufacturer IHI Corporation and the Central Research Institute of Electric Power Industry, a foundation that conducts research in fields related to the electric power industry. Ryoichi Ozaki, who is currently involved in JERA's ammonia-fired power generation demonstration tests, was also one of the members who participated in this project from its earliest stages.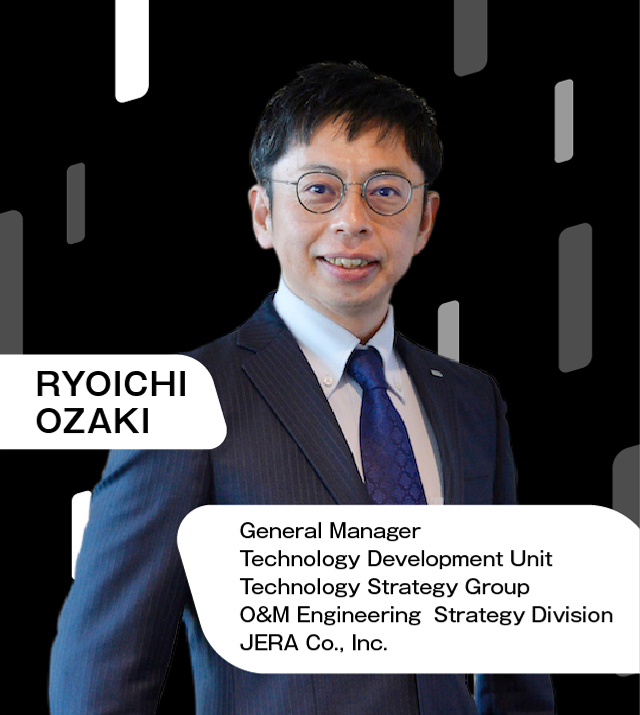 "Initially, the development of direct ammonia combustion was conducted with a small gas turbine of about 50kW. However, it was thought that scaling up for commercial use would be challenging because the NOx emissions would increase drastically. But around 2016, we had a breakthrough. We realized that if we burned ammonia alongside coal and slowed down the combustion rate, even large boilers could suppress NOx emissions. Instead of just experimenting with this technology on older, smaller-scale research equipment, we aimed for rapid commercialization using the world's largest power generation equipment at Hekinan Thermal Power Station. That was a significant turning point." (Ryoichi Ozaki JERA)
When ammonia (NH3) is burned, it produces nitrogen oxides (NOx), which are atmospheric pollutants that can cause photochemical smog. Some nitrogen oxides (N2O) are also greenhouse gases. Suppressing these emissions is the primary technical challenge in direct ammonia combustion.
What Will the 20% Ammonia Combustion Demonstration Tests Prove?
While the Cabinet Office's SIP program concluded in 2018, its research findings and partnerships are still alive and well today. JERA was founded in 2015 through investments from Tokyo Electric Power Company (TEPCO) and Chubu Electric Power Company (CEPCO). In 2019, it completed the consolidation of its domestic thermal power operations and furthered its research and development in collaboration with IHI Corporation.
Since then, JERA has been engaged in the technical development of ammonia-fired power generation using the latest ultra-supercritical pressure plants, namely Units 4 and 5 at Hekinan Thermal Power Station, with the aim to build a new energy value chain spanning from overseas ammonia production and procurement to transportation and power generation.
Ammonia is already used in industrial applications such as fertilizers, chemical products, and food additives, and well-established technology can liquefy it at minus 33 degrees Celsius and ensure it is safe for storage and transport. By using larger transport ships and tanks, ammonia could become a viable strategy for supplying clean energy from around the world to Japan.
The primary technical challenge remains how to effectively suppress NOx emissions. Toshiyuki Suda of IHI Corporation, who has long been involved in the development of ammonia combustion technology, says, "The advancements in research and technological development to control NOx emissions have given Japan an advantage."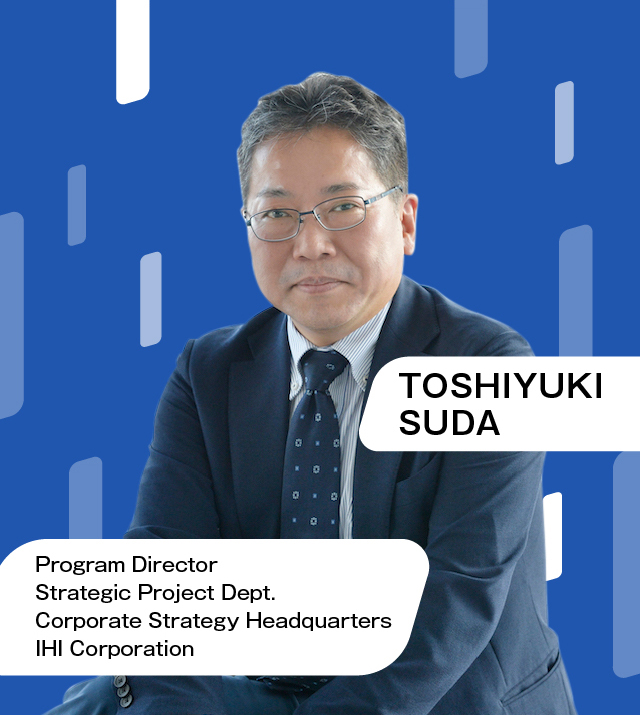 "Coal contains nitrogen components, which means even coal-fired power plants emit a small amount of NOx. Research on how to control this has been ongoing since the 1980s. In Japanese coal-fired power plants, innovative techniques have been employed to minimize and sometimes eliminate NOx emissions by enhancing burner technology and optimizing air introduction methods. Being able to apply this technology is how we have been able to advance ammonia-fired power generation in such a short period of time." (Toshiyuki Suda, IHI)

The key to controlling NOx is to prevent the nitrogen (N) content in coal or ammonia from reacting with oxygen (O2) to the extent possible. Coal-fired power plants in Japan use an advanced technology called two-stage combustion, where the fuel is first burned in a low-air environment that makes it harder for the nitrogen content to turn into NOx, after which more air is introduced to burn off any remnants.
In fact, IHI's testing facility in Aioi City, Hyogo Prefecture, already has a burner capable of firing 100% ammonia.
The demonstration tests at Hekinan Thermal Power Station will serve to verify the angle of the burner nozzle for burning a large quantity of ammonia in extensive power generation facilities and fine-tune the optimal air intake volume. Additionally, these tests will collect detailed data on equipment degradation and power generation efficiency to determine whether it is feasible to transition to commercial operation.
"Our goal is 100% ammonia zero-emission thermal power generation. It's not easy, but we've been able to demonstrate a certain amount of validity of our theory based on accumulated research. We have a clear vision of the approach needed to reach commercialization. It is often said that Japan leads in technology but lags in business, but by achieving commercialization as quickly as possible, I believe we can maintain our lead in both areas." (Toshiyuki Suda, IHI)
What Can Be Done to Reduce CO2 by 20%
Ryoichi Ozaki at JERA explains, "We know that ammonia is burnable, so single-fuel combustion is technically possible." The demonstration test scheduled for March is not so much about confirming whether it is feasible or not but rather about determining how much combustion efficiency can be improved using existing power generation equipment.
The goal is to increase power generation efficiency while minimizing the cost of equipment modifications, ultimately leading to a reduction in the final electricity price.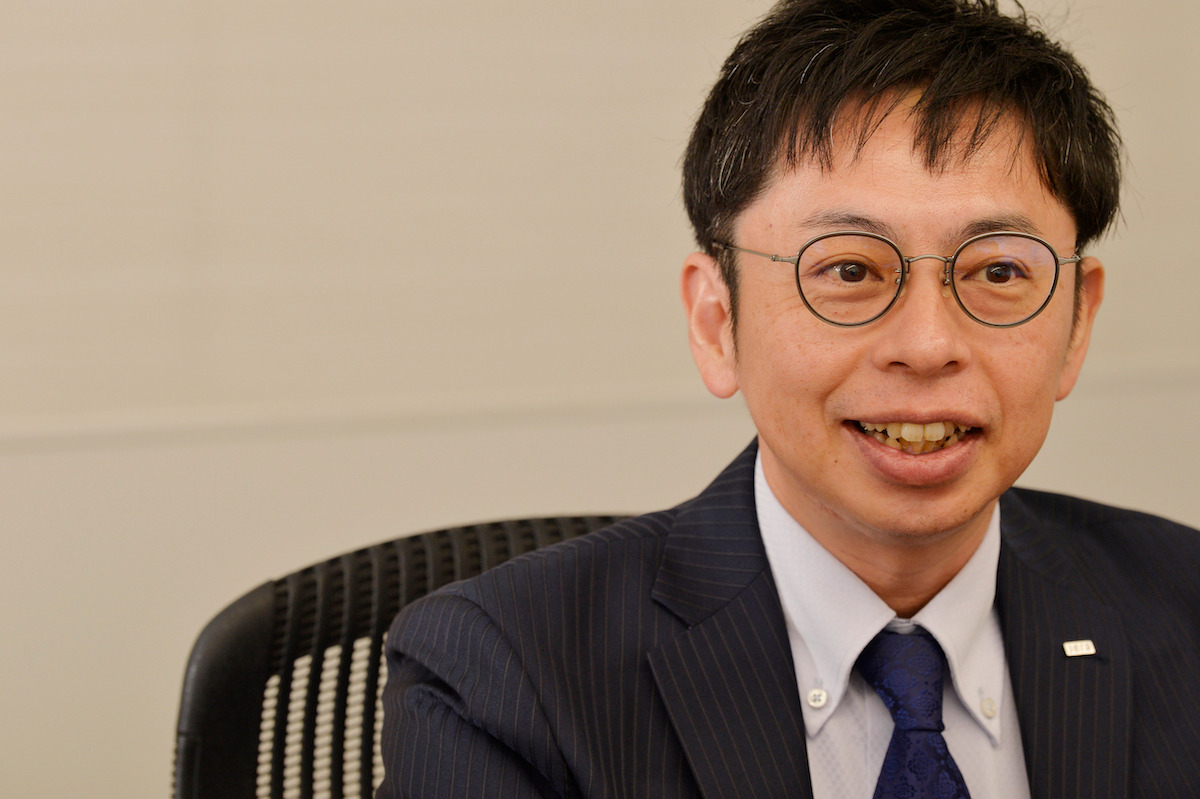 "We will gradually increase the combustion ratio of ammonia, but with our goal of decarbonization, we aim to achieve a ratio of more than 50% as soon as possible. Once we exceed the 50% threshold, ammonia will become the primary fuel source, marking the start of genuine ammonia-based power generation." (Ryoichi Ozaki, JERA)
The path ahead still holds many technical challenges and uncertainties. As the company aims for ratios of 70%, 80%, and beyond, it might become necessary to construct dedicated ammonia boilers to maintain combustion efficiency, which will affect power generation costs.
Mitsutaka Ban says that when considering energy supply, it is crucial to pursue various initiatives simultaneously to increase the number of options.
"Right now, within JERA, we have various teams at work. There is one team currently advancing the ammonia power generation demonstration at Hekinan. Then, there is the upstream team working on the production and procurement of fuel ammonia, including through international bidding. And there is also a team collaborating with Mitsui O.S.K. Lines, Ltd. (MOL) and Nippon Yusen Kabushiki Kaisha (NYK) on the construction of dedicated ammonia transport ships. We are building a cohesive team with our partners, striving to create a value chain for ammonia power generation.
"Step by step, we are ensuring safety at every step in the process as we work to increase the amount of electricity generated from fuel ammonia. Even if we are unable to achieve 100% combustion at Hekinan Thermal Power Station, the technology, the equipment, and the partnerships will remain. And if we find a better technique than ammonia, we will adopt and integrate the best approaches according to the circumstances. JERA's ultimate goal is to be providing electricity generated from clean energy by 2050." (Mitsutaka Ban, JERA)
Produced by NewsPicks Brand Design
This article is based on a Japanese article produced by NewsPicks Brand Design, which sponsored and translated by JERA.
https://newspicks.com/news/9010808