Press Release
Ohgishima City Gas Supply, Ltd. Begins Commercial Operation of City Gas Production and Supply Facility
Ohgishima City Gas Supply, Ltd. Begins Commercial Operation of City Gas Production and Supply Facility
2020/04/01
Ohgishima City Gas Supply Co., Ltd. ("OCGS"), established through a partnership between JERA Co., Inc. ("JERA"), JXTG Nippon Oil & Energy Corporation ("JXTG"), and Osaka Gas Co., Ltd. ("Osaka Gas"), has begun commercial operation of a city gas production and supply facility (calorific value adjustment system [CVAS] facility) in the Ohgishima district of Kawasaki City.
The CVAS facility will produce approximately 1.1 million tons of city gas per annum by mixing natural gas and liquified petroleum gas. JERA will use the this city gas mainly as fuel for the Shinagawa Thermal Power Station, while JXTG and Osaka Gas will use it mainly for city gas retailing. JXTG and JERA will also use it as a raw material for hydrogen production at the hydrogen station business in Tokyo's Oi area in which both companies participate.
JERA will operate the facility and supply its natural gas, JXTG will supply the LPG used to adjust calorific value, and Osaka Gas will support facility operation based on its expertise in operating similar facilities. Through OCGS, the partners will manage and operate the facility with safety as their highest priority.
Outline of OCGS
Corporate Name

(equity stake)

Ohgishima City Gas Supply Co., Ltd.

(JERA: 69%, JXTG: 16%, Osaka Gas: 15%)

Head Office

Higashi-Ohgishima, Kawasaki-ku, Kawasaki-shi, Kanagawa

Capital

JPY 350 million

Establishment

October 2017

Executive Officer

Satoshi Iwaoka

Business Details

Production, supply, and transportation of city gas
Outline of CVAS Facility
| | |
| --- | --- |
| Site | Ohgishima, Kawasaki-ku, Kawasaki-shi, Kanagawa |
| Type of CVAS | Liquid-gas type calorific value adjustment (blending high calorific value LPG with natural gas to adjust calorific value) |
| Production Capacity | 270t/h |
| Const Company | JFE Engineering Corporation |
Site of CVAS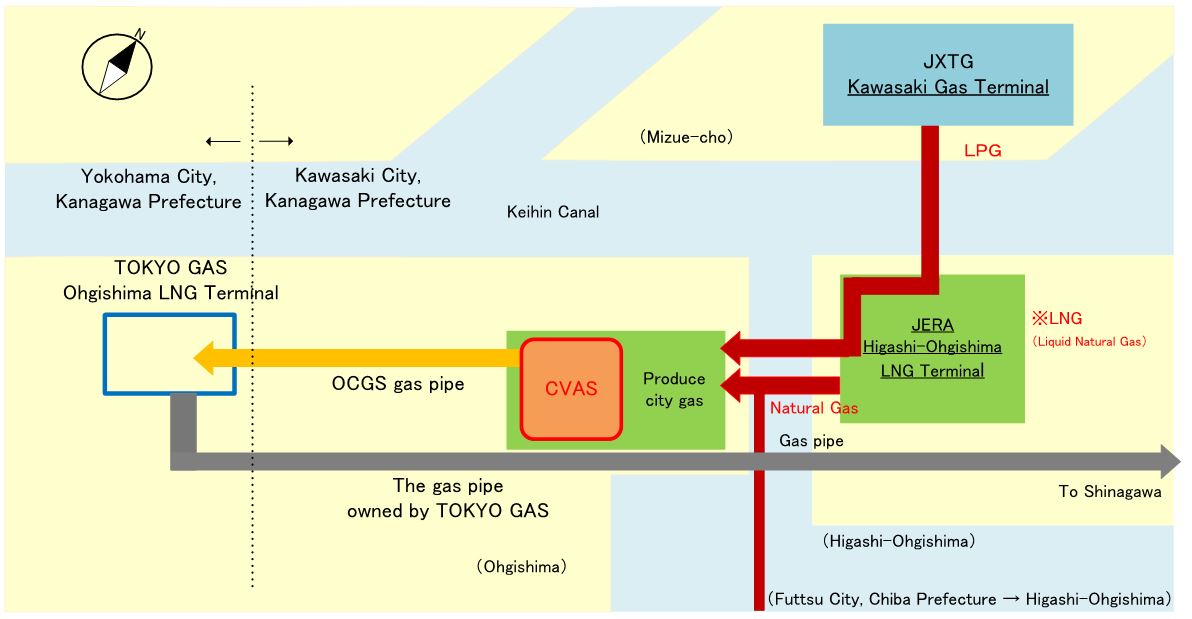 Image of CVAS