Press Release
Arrival of First Cargo of Liquefied Natural Gas (LNG) from the Wheatstone Project
Arrival of First Cargo of Liquefied Natural Gas (LNG) from the Wheatstone Project
2017/11/13
JERA Co., Inc. ("JERA") today announced that the first cargo of LNG from the Wheatstone Project, loaded onto the vessel Asia Venture, has arrived at TEPCO Fuel & Power Futtsu LNG Terminal in Chiba Prefecture on 12 November 2017.


The Wheatstone Project, which is located 12 kilometres west of Onslow in Western Australia, processes and liquefies natural gas extracted from fields located offshore of Western Australia at the Ashburton North plant. At full capacity, the Wheatstone Project's two train facilities are expected to produce 8.9 MTPA of LNG for export to customers mainly in Asia.


JERA will be the largest buyer of LNG from the Wheatstone Project, after concluding a long-term sales and purchase agreements for 5.2 MTPA of LNG. JERA has also contributed to the launch of the Wheatstone Project as a participant in the project through PE Wheatstone Pty. Ltd., an Australian subsidiary of Pan Pacific Energy K.K., which is jointly owned by Mitsubishi Corporation ("MC"), Nippon Yusen Kabushiki Kaisha ("NYK Line") and Japan Oil, Gas and Metals National Corporation ("JOGMEC").


The commencement of supply from the Wheatstone Project will further enhance the stability of JERA's LNG procurement. Going forward, JERA will continue to respond to changes in the business environment flexibly and achieve competitive procurement by establishing an optimal LNG procurement portfolio.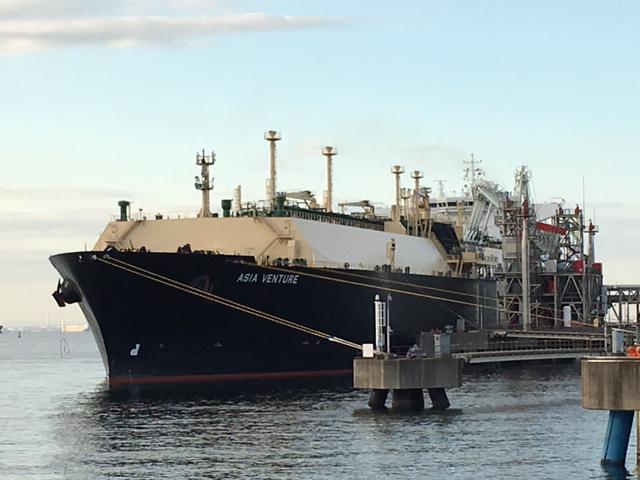 Arrival of LNG Cargo at Futtsu LNG Terminal
(12 November 2017)