Our Business / Thermal Power Stations

Safety Management and Disaster Prevention Measures
Safety Management and Disaster Prevention Measures
Safety Management
At thermal power stations, with placing the top priority on the safety of personnel and facility, we strive to ensure the safe and stable operation of the stations through the appropriate implementation of operation management and facility maintenance.
Operation Management
The central control room conducts 24-hour monitoring.
During daily patrol inspections, each device is checked for their appearance, temperature, vibration, sounds etc., to strive to ensure that minute abnormalities can be found earlier and nothing is overlooked.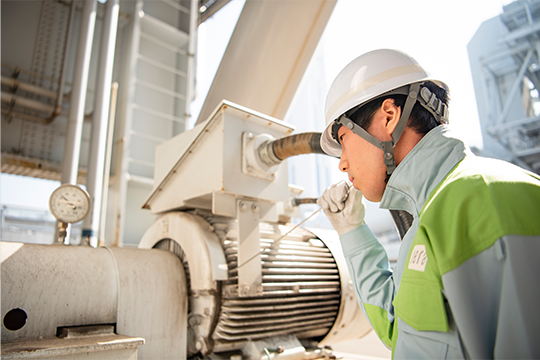 Facility Maintenance
Facilities are regularly inspected for safe operation.
Inspection methods include "Periodic Operator's Inspection" stipulated by the Electricity Business Act, and "Periodic Self Inspection" for voluntary inspection. Furthermore, inspection and repair on defects and other problems during operation is strived to collaborate with partner companies to achieve quick restoration and stable operation.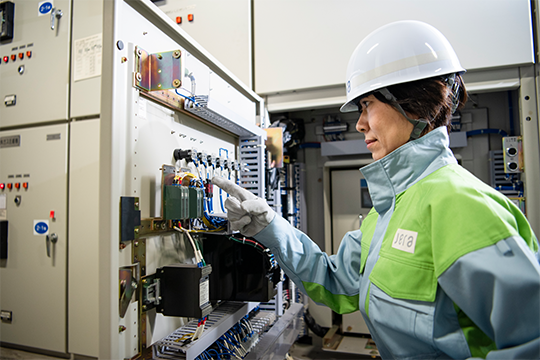 Disaster Prevention Measures
Thermal power stations handle many dangerous substances appropriately managed, according to their respective laws such as the Fire Service Act, the Act on the Prevention of Disasters in Petroleum Industrial Complexes and Other Petroleum Facilities, and the High Pressure Gas Safety Act. With regards to power stations that fall under the Act on the Prevention of Disasters in Petroleum Industrial Complexes and Other Petroleum Facilities, depending on the scale, the following countermeasures are taken.
Establishment of management systems through the appointment of a disaster prevention manager and a deputy disaster prevention manager and the creation of disaster prevention regulations
Installation of disaster prevention facilities such as chemical fire trucks, oil recovery vessels, and oil fence expanding ships, as well as dispatching of necessary disaster prevention personnel, through self-defensive and collegial organizations for disaster prevention
Establishment of reporting systems and other systems for disaster prevention
Emergency disaster systems have also been prepared for flexible response during emergency situations.